WHY COOK ALONE EVERY. SINGLE. NIGHT.
WHEN YOU CAN SPEND 2 HOURS COOKING WITH FRIENDS?
---

What is a meal prep party? It's a fancy way of saying hang with friends, cook food and improve your life.

The events serve as a stress-free way to encourage healthy eating, by taking the guesswork out of deciding what is on the menu for the week. The vision of HealthStyles 4 You is to teach people how to create healthier, sustainable lifestyles, while promoting optimal health.
HOW the MEAL PREP EVENTS WORKS
Pick a date and approve the meal selection
Select up to six people to join the fun
Then enjoy… all the groceries will be brought to you
It's like six cooking classes in one
Recipes Sent Beforehand for Approval


TAKE HOME ENOUGH FOOD FOR FOUR DAYS
Breakfast, Lunch, Dinner and Snacks
Fun – Motivation – Inspiration – Support –Guidance!!
Schedule Your Meal Prep Event!
---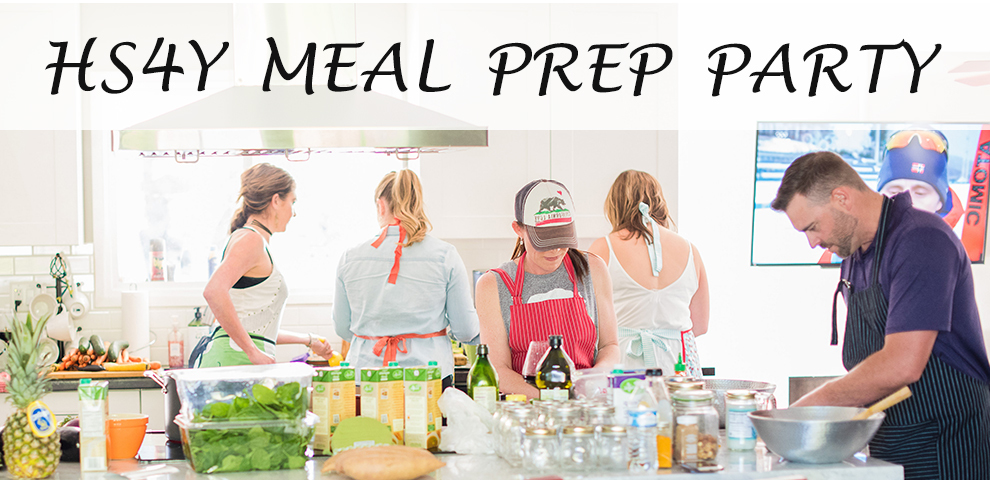 Planning ahead replaces the need to eat what is convenient or choose unhealthy food options. By hosting or attending a meal prep party, two-hours are dedicated toward teaching guests how to make healthy food meals and learn new recipes that can be used for a lifetime. With proper meal planning and preparation, those stressful evenings can become a thing of the past. Benefits for HS4Y's Meal Prep Parties help valley residents develop more confidence in the kitchen by learning techniques to save time and money, reduce stress and keep their weight in check.
Save time – you won't need to decide where to eat, what to eat, get in your car and drive there, wait in lines
Save money – eating out often results in higher costs and less healthy meals
Learn how to integrate the right food combinations – learn how to incorporate a variety nutrient-dense food into your meals
You will receive guidance from a certified integrative health coach while expanding your "go to" meals. Crystal focuses on meals that include anti-inflammatory foods that can help increase energy levels.
People often think meal prep is a great idea, but don't know where to begin. It's no secret that when you eat healthy, you feel better! Many people are so busy with work, school, children, and extracurricular activities, that the importance of eating healthy gets overlooked. Impulse decisions can cause weight gain, create low energy levels, and over time can lead to the onset of heart disease, high-blood pressure, high-cholesterol and many other diseases. Crystal's goal is to help people make better choices to prevent that from happening.
Once you get all the prep work out of the way, MAKING DINNER IS SO EASY.

Sometimes you have to shock your body by kicking in healthier habits that will benefit you for the long haul. Food prepping can be fun! And you'll even feel a sense of accomplishment when you're done.
According to the Consumer Expenditure Survey (CE) Annual Report people across the U.S. spend on average $700 per month on food, per person (see details in the statistical tables). HS4Y's Meal Prep Parties will teach you how to save money and eat healthier, event costs are $175 per person. For additional details call 602.722.5627 or email cbaus@healthstyles4you.com.
PhotoCredit: http://jenniferhalen.com/