Currently I'm on day eight of the TLS
21 Days of Health Challenge
and I feel great! I normally like to participate in two cleanses a year; it is an important part of my health regimen. I decided to do this Challenge for a number of reasons!
I was ready to get my health back on track and energy back!
To shed off what we are all so familiar with, "holiday weight gain" I too, fell into the trap this year.
It was time to detox and cleanse after enjoying too many homemade desserts and cocktails.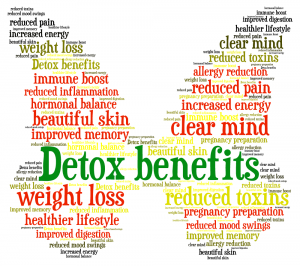 And this year, it was definitely needed as I was seven pounds over my norm. This may or may not have been related to an injury that happened in early November (my neck is currently straight instead of curved…) that prevented me from playing volleyball (this is something I normally do 2 times a week) and running (normally 2-3 times a week). It is crazy how fast the pounds can add up.
Luckily, this
21 Day Challenge
has already gotten me back on the right track. The holiday weight is gone, all seven pounds of it. I can't wait to see what day 21 brings!

Now WHY is detoxing and cleansing important to your health?
Detoxification is often the first step in restoring health. Here are 10 Signs that you Need to Detox: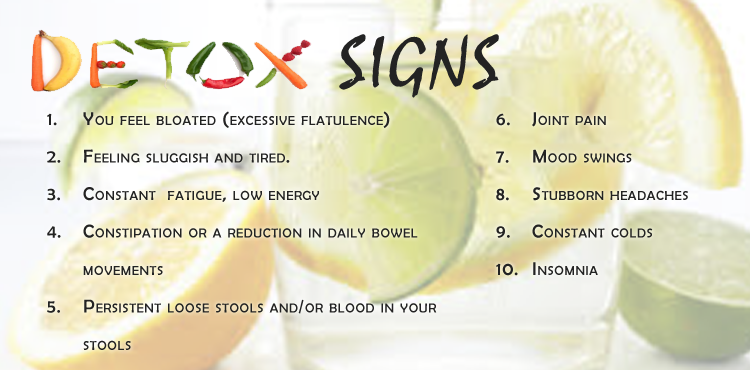 Detoxing assists with improving your metabolism, curbing your cravings and kick starting your weight loss. It's important to detox because overeating, consuming unhealthy foods and sugary drinks burdens your digestive tract and liver. Overtime, this can lead to poor digestion and the inadequate absorption of nutrients.
Foods like refined grains, starches, sugars, and unhealthy fats do not give your body the nutrients it needs. This causes you to feel hungry, tired and bloated — forcing your body to stay in fat storage mode. Your digestive tract and liver work together, so when one is stressed or overworked the other is too. One of the consequences of having an overstressed or toxic liver is that it becomes so overloaded that it can't fully metabolize fat, which causes vitamin deficiencies and poor digestion.
Detoxing and cleansing can boost your immune system, enhance mental clarity, increase energy, promote weight-loss and improve quality of sleep, all which will aid in your overall vitality. Read more on the
benefits of detoxing here
.

If you are still with me, you are probably wondering what is the TLS 21 Day Challenge is?
It's a simple and straightforward program, created for shedding excess weight healthily, but quickly. This challenge is broken into two phases: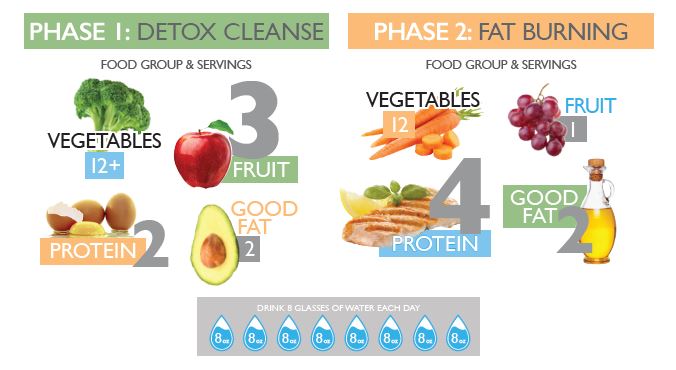 PHASE 1 — DETOX CLEANSE — DAYS 1 - 7
Kick off your weight loss journey with an invigorating cleanse! Phase 1 will curb those cravings for sweet, fatty and salty foods while supporting your weight loss efforts. Bursting with fruits and vegetables, this detox is the first step to the brand new you.
PHASE 2 — FAT BURNING — DAYS 8 - 21
Accelerate your weight loss efforts during Phase 2. Specially created to target stubborn fat, during these weeks you will reach the maximum phase of fat loss. In this Phase, you'll shed those extra pounds of fat and ultimately feel better, both physically and emotionally.
If you are ready to jump start your health back on track, RSVP for the
21 Days of Health Challenge here
and I'll send you the details! You can order
your products here
.

So what happens after 21 days?
After day 21 for me is when I continue eating clean, taking my vitamins and minerals, and fitting workouts in 5-6 days a week, basically I continue my
healthy way of living.
I can help you take your health to the next level. I work with clients to help make lifestyle changes and choose health-promoting actions that produce real and lasting results. Clients will develop a deeper understanding of food and lifestyle choices that work best for them, improving their energy, balance, health, and happiness.
After the 21 Day Challenge, we will talk about things beyond food, seeking to bring balance to important elements of your life such as love and relationship as well as career and money.Each session will leave you feeling inspired and motivated. I will personally and carefully guide you to make simple, small changes that transform your life.
Schedule your
FREE initial health evaluation
with me today— to explore creating your healthiest, happiest, most energetic life. Call 602.722.5627 or email cjarvie@healthstyles4you.com.