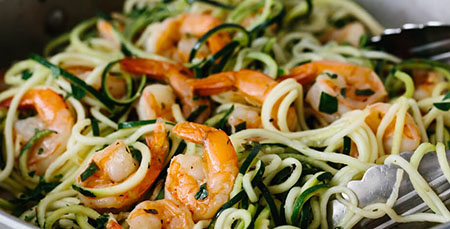 Ingredients
4 medium zucchini
4 green onions (scallions)
1.5 lb raw shrimp
2 tbsp olive oil
4 garlic cloves, chopped
2 tbsp butter or ghee
1 lemon, juice
1/4 cup white wine (or chicken broth)
1/4 cup chopped parsle

y

Dash of cayenne pepper and Himalayan 

salt
Directions
Wash and cut the ends of the zucchini. Using a spiralizer, make the zucchini pasta. Set aside. 
Heat the oil in a large pan over medium-high heat. Add the shrimp and scallions, sprinkle with salt and pepper. 
Add the chopped garlic, then stir the shrimp for another minute or two to cook the other side. 
Use a large spoon or tongs to remove the shrimp to a plate.
Add the butter, lemon juice, and white wine or broth to the pan. Bring to a simmer for 2-3 minutes while stirring.
Add the parsley and zucchini pasta, cook until the zucchini is tender. (Just a few minutes)
Add the shrimp back to the pan and stir for another minute. 
Enjoy!