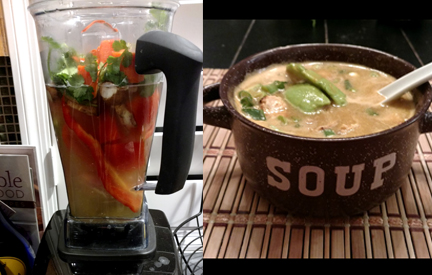 Cooking Time
20 - 30 minutes
Ingredients
2 large chicken breast 
2 roma tomatoes
1 large carrot
1/2 red pepper
1 avocado
2 tbsp onion
2 ounces of your favorite cheese
2-3  sprigs fresh cilantro
1 tsp herb seasoning
1 tsp Himalayan salt
1 tsp garlic powder
2 cups warm water or vegetable broth
Optional: 
Directions
Cook chicken in a skillet or oven while prepping the rest of the ingredients. I prefer my chicken in chunks. 
Add all ingredients (except for the chicken and avocado) in the order listed and secure lid. 
Select "Soup" or highest cycle (you might want to run cycle twice for desired heat) or blend on a high speed for 90-180 seconds.
Once the chicken is done, dice in desired sized pieces and add to soup. 
Top with avocado and enjoy!